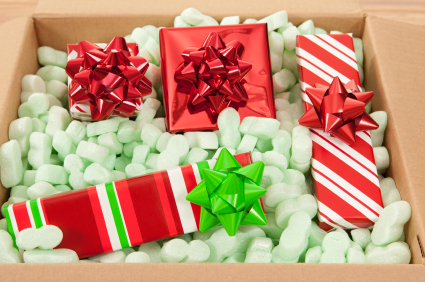 It's hard to believe that we're already seeing Christmas decorations lining the isles at stores; especially when we haven't finished all the Trick-or-Treat candy we got a couple weeks ago. The fact remains that Thanksgiving and Christmas seem to arrive sooner and sooner each year, which means it's never too early to prepare for the holidays.
FedEx and UPS are both gearing up for what they forecast to be record months. FedEx expects to transport over 290 million packages this season (8.8% higher than 2013) while UPS estimates it will move more than 585 million packages in the same time period (11% higher than 2013). FedEx believes December 15 will be their "peak" day with 22.6 million packages entering their shipping stream. UPS projects December 22 to be their busiest day with 34 million packages being processed through their facilities.
To give you a visual of how many packages that is, a UPS press release stated that if you took the 585 million packages and put them side-by-side with each measuring one cubic foot, it would circle the Earth almost 4.5 times!
The carriers have already taken steps to prepare for the mass volume of packages. UPS added 47 new facilities and expanded existing facilities. Some centers will have stand-alone conveyors and loading doors known as "mobile delivery villages" allowing those centers to dispatch 60-90 additional vehicles.
Not to be outdone, of course, is FedEx. In the past five years, FedEx Ground has finished 250 projects including new facilities, relocations, and expansions. FedEx Express continues to use both modern and newer technology like the 757, 767, and 777 which use less fuel and have lower emissions. All are designed to move packages to more places at a faster speed.
So what does it all mean for you, the everyday shipper? Here are some things to keep in mind as you prepare for shipping holiday cheer to loved ones.
All week shipping – FedEx and UPS will operate seven days a week starting on Black Friday. This allows you to purchase your gifts for all those out of town loved ones and get them out before the calendar even flips to December. It also gives you one more weekend day to get gifts and send them out.
Job opportunities – If you're looking for a little extra holiday spending money to buy those treasured gifts and are in need of a job, you can sign on for seasonal help with the carriers. UPS is hiring 90,000-95,000 seasonal staff to help with the giant shipping increase. To apply you can sign up at UPSjobs.com. FedEx hopes to add more than 50,000 seasonal personnel to their already vast network of 300,000 employees. You can search for the job that best suits you at careers.fedex.com.
Ship early and save – While Thanksgiving and Christmas seem far away, you'll thank yourself–as will your wallet–the earlier you ship. Carrier rates have increased the last several years and they're set to do so again at the end of this year. UPS will raise their rates on December 29 while FedEx will wait until January 5, 2015 to increase their rates.
One notable change with the rate increase is that packages will be priced based on the dimensional weight (how much space they take up on the vehicles) of the package rather than actual weight. Don't wait until after the holidays in hopes of a "shipping sale" because you could end up paying more.
New hours and deadlines – Because the holidays are a crazy time for everyone, you'll want to know the hours your local shipping center is open. Some businesses maintain normal operating hours while others have expanded hours. Check with your local ship center before loading your gifts into your sleigh and taking them to a closed workshop.
You'll definitely want to know shipping deadlines to get your gifts to their destination in time for Christmas morning. We've included the list provided by FedEx at the bottom of this entry so you know the last days to ship. If you're shipping to loved ones serving in the military via APO, FPO, or DPO through the Post Office, it's best to ship your gifts during the last week of November to ensure they arrive in time for Christmas.
Stress savers– You're probably going to exhaust enough time and energy just getting to the mall and buying the gifts you're shipping. Save yourself some of the stress and let us pack your gifts for you. We can even do the gift wrapping, too! Just bring in the gifts and tell us where to send them. This gives you time to enjoy the holidays rather than stressing over them.
Practice patience – Lets' face it; no one likes being patient. We want what we want and we want it yesterday. With the carriers moving millions of packages that literally encompass the globe, we'll all have to be patient when it comes to waiting in line to ship, tracking packages online as servers are asked to do more work, or trying to contact a customer service representative. The best thing to do is enjoy the Christmas music, smile, and think about the joy you're about to send to someone special.
Finally, keep in mind that its a stressful time for the staff at your friendly ship center. We may not be shipping a million packages, but we are shipping and packing more than normal. It's our busiest time of the year and we have an increased workload placed on us. We happily welcome the challenge, but keep in mind that we're doing our very best to help others ship their gifts in time and for an affordable cost. Your patience goes a long way in letting us be at our very best.
We hope this helps you plan ahead for your holiday shipping this year. As always, if you need help with anything at any point please visit your local pack and ship store or give them a call. We're here to help because we have OCD – Operation Christmas Delivery!
FEDEX LAST DAYS TO SHIP
FedEx SmartPost – December 12 (exceptions apply)
Ground & Home Delivery – December 17
Express Saver – December 20
2 Day & 2 Day AM – December 22
Standard, Priority, & First Overnights – December 23