Ahh, summer.
The sound of mowers trimming grass, the sweet aroma of barbeques grilling up succulent masterpieces, the thrill of America's past time in full swing, and all those do-it-yourself trucks roaming across the country . . . wait, what?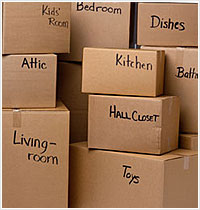 That's right! Summer is the busy season for moving. Families create new beginnings, employees change job locales, students start moving into college, and others simply look for a fresh start and a new, exciting area.
Regardless of our motive, all of us have moved–or will move–at some point in our lives. According to U-Haul's Web site, 1 out of every 5 people move in a given year. When 3/4 of movers are do-it-yourself customers and considering 45% of moves take place between Memorial Day and Labor Day, it makes for a busy summer!
Maybe you're considering a move this summer. Perhaps you're move doesn't involve a big trucks with ramps, an appliance dolly, or furniture pads, but one thing holds true for all movers: there's a right way and a wrong way to move.
We've compiled a list of moving advice to help you in your summer moving adventures. Here's what we, along with industry leaders like U-Haul, advise:
Make it a weekday move. Moving on a weekday cuts your cost on rental trucks with cheaper mileage rates. It's also good to move when government offices and financial institutions will be open in case of an emergency.
Stock up early. Most moving companies advise purchasing your boxes and other materials 2-4 weeks in advance. This gives you plenty of time to pack and, should you have to buy more supplies, you'll know exactly what's needed. Start early and avoid more stress later. Last minute packing and moving is never a good thing!
Designate a packing area. One way to save yourself–and your family–some stress is to choose a room in the house to be the official "packing station." This allows you to pack things up at a comfortable speed while cleaning out other rooms. Having a plan and splitting up the work load over several days can make for much happier movers.
Label it. Make sure all boxes are labeled with their contents and what room they go in. This type of forward-thinking will save you time and energy at your destination as you unpack items.
Find a pet-setter. If you're moving locally or not far from your former address, enlist the help of a friend or family member to watch your pets. Moving can be a very chaotic and confusing time for our little friends. Help them out by giving them a quiet, comfortable place to hang out while the rest of the family takes care of the move.
Don't shut it off. Another tip for local moves is to leave your water and electricity on for a few days after your move. You can go back and do an extra good job on cleaning for the next residents. This is a must for most apartment dwellers and a good act of courtesy for new home owners. Cleaning is always easier when there's nothing in the way!
Load properly. It's best to load your larger, heavier items up near the front of the truck. It also helps to balance your load so one side of the truck doesn't weigh more than the other. If there are any items you'll need as soon as you arrive, make sure they are packed last. Important paperwork and family medications should be kept in the cab with the rest of the family.
Know your rental truck. When driving a moving truck, match sure you give yourself extra breaking room, especially for larger trucks. You won't be able to stop as quickly with all the weight of your belongings behind you compared to a regular car. Remember, drive thru restaurants may have convenience written all over them for moving families, but they rarely appreciate the site of a moving truck. Know what your clearance is of the truck you're driving. The wisest decision here is to play it safe and go inside (sometimes that's faster than the drive thru!).
Secure your belongings. For one-way rentals, it's best to purchase a keypad lock to put on your truck if staying overnight in a hotel. You worked hard for what you have; don't unwillingly let someone else be the benefactor of it!
Have contact information ready. If you need to get in touch with relatives, realtors, or movers before your arrival, have the number stored somewhere easily accessible. This is especially true for any roadside assistance you may need during your trip.
There you have it!
Hopefully our brief moving guide will give you some peace of mind as your plan your move during this busy season. Planning is the biggest thin to remember when preparing to move either cross-town or cross-country. If you're not sure about that, just think of this famous saying: "Those who fail to plan, plan to fail."
Happy (and safe) moving!