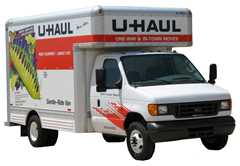 If you find yourself driving around Los Angeles County any time soon, you may want to keep an eye out for U-Haul's latest effort in sustainability.
You may see a typical U-Haul 14′ moving truck roll past you, which is nothing special . . . except what's under the truck. U-Haul has begun equipping some of their trucks in the LA area with propane fuel tanks affixed to the bottom of the truck.
The environmental benefits of using propane fuel against regular gas results in lower emissions. Studies show a reduction in carbon monoxide (60%), nitrogen (20%), and greenhouse gases (24%). While regular gas has a 15-25% better fuel economy, propane is less expensive. That can be a deciding factor for in-town rentals that typically don't rack up mileage.
Propane reduces maintenance costs and makes the parts last longer. This provides customers another benefit since U-Haul passes these savings on to their customers.
Area Field Managers with U-Haul are also enjoying the benefits of propane fuel. You might see an AFM driving around in a Ford E-450 model with compartments on the sides for parts and tools. This model allows AFMs to operate in tighter spaces with a better turn radius.
Making customers and employees happy is one thing U-Haul does best. Their accolades have been recognized as high as the state office. The government, along with U-Haul, plans to construct a "Alternate Fuel Corridor" running along Interstate 5 that will boast alternative fuel stations dispersed evenly along the West Coast. U-Haul currently has 1,100 locations that dispense propane.
So if you're in the LA area, specifically on I-5, and you need a U-Haul truck to rent, ask for the new sustainability vehicles to save money and help the environment at the same time. It's always a win-win with U-Haul!