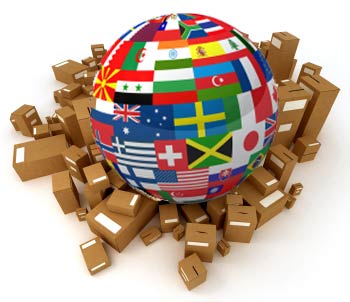 It's hard to believe how quickly the world is seemingly shrinking isn't it? Messages are sent between countries in an instant, people can travel the world in the span of a day, and sending packages to loved ones overseas has become more affordable for everyone.
International shipping continues to grow every year with more and more packages going across borders, so we put together a list of the five things you need to know when shipping internationally.
1. Know who you're shipping to
This one may seem like a no-brainer, but its crucial. Fraudsters are getting better at contriving scams that are conducted from other countries. They use email to establish a relationship and then have items shipped to them with no intent of providing reimbursement or the requested work to be done on your item. Most international scams involve wiring money through a service like Western Union, but sometimes fraudsters will want a tangible item sent to them.
The point is to always know the receiver. Make sure they are a loved one, an associate with work, or someone you have personally spoken to and have received reliable information from.
2. Know what you're shipping
Again, no-brainer, right? While certain items may appear to be harmless or acceptable for domestic shipping, carriers such as DHL, FedEx, UPS, and USPS have regulations that must be followed when shipping out of the country.
One common example is electronics powered by lithium batteries. Sending multiple laptops domestically through a Ground service is acceptable, but what you may not know is that you can only send a maximum of two batteries or four cells internationally and they must be installed in the item they power. Another seemingly harmless example would be a small cactus. Shipping it in the United States is fine, but try sending it to another country and you most likely won't be able to. It all depends on the country you ship to, which leads us to our third point.
3. Know where you're shipping
Every country is different and therefore each country has its own list of what items they'll accept. Mexico rarely allows used clothing to enter the country. Sometimes it depends on where the item was manufactured that could prevent it from entering the intended country. Another variable is political unrest inside the country. There was a period of time in the summer of 2014 when DHL refused to deliver any packages to Russia during the Ukrainian crisis.
With so many variables to keep track of, how can you be sure your items will be delivered? You can't . . . that's why its important to call the carrier you're shipping with and ask them if what you're shipping will be accepted in the country it's going to. The carriers have updated records of what is excluded and all the necessary paperwork you'll need to ship your package. Paperwork is critical, which takes us to our next point.
4. Know what documentation your need
Different items require different types of paperwork. The most common is the Commercial Invoice. This is a detailed list of the sender, receiver, and a list of all the items being shipped including their value and country of origin (where it was made). In most cases, if all you're shipping is documents then you don't need to fill out a commercial invoice.
There are other forms that may need to be filled out depending on what you're sending and where you're sending it. Textiles are one example of an item that typically needs additional paperwork. Below is a list of common forms that are used for internationally shipments:
Certificate of Origin: This document certifies the item(s) being shipped are from the country they were manufactured in. You include the address of the shipper and receiver and a detailed list of the contents. Once everything is filled out correctly you sign and date it. It will then have to be signed, sealed, and notarized by someone at your local Chamber of Commerce.
Shipper's Export Declaration (SED): This document is required when the customs value exceeds $2,500 or if an export license is required. You'll also need this document if your package is subject to International Traffic and Arms Regulations (ITAR) but is exempt from license requirements or if you're sending rough diamonds that start with HTS 7102.10, 7102.21 and 7102.31. If you're shipping to Cuba, Iran, Iraq, Sudan, North Korea, Libya, Syria, or Serbia (excluding Kosovo) you'll have to fill out this form.
The regulations for the SED are controlled by the US Census Bureau and are constantly being updated. For a complete list of requirements and updates you can go to fedex.com and search SED.
NAFTA Certificate of Origin: NAFTA is short for North American Free Trade Agreement and it applies to shipments between the US, Canada, and Mexico. You'll need this document if you're international package is going to one of those countries and the customs value exceeds $1,000.
Electronic Export Information (EEI): This document is required when you're shipping electronics and the value for customs exceeds $2,500.
5. Know what you're paying for when you ship your package
There are several options when shipping international. It's important to know what you're paying for because of the different services. USPS is usually the cheapest. However, the package can only be tracked within the United States; once it leaves the US there is no tracking and no way of knowing if it was delivered. It gets handed from our postal system to the receiving country's postal system, which has entirely different tracking methods and systems than we do.
The major carriers (UPS, FedEx, and DHL) will cost more, but you get door-to-door tracking. This helps ensure the package will not get lost or stolen during customs clearance. Of the major carriers, DHL tends to be the international leader. It's what they do best and they have access to international trade routes that FedEx and UPS pay extra to use, thus making their costs higher.
As you can see, international shipping can be stressful, but it doesn't have to be a headache. Your local pack and ship store is there to help you navigate through the process by doing most of the work for you; even packing the items! You can also find great resources from the carrier web sites. We've posted a few at the end of this post that we hope will assist you.
Happy shipping!
USPS Publication 52 for Hazardous, Restricted, and Perishable Mail: http://pe.usps.com/text/pub52/welcome.htm
SED updates from FedEx: http://www.fedex.com/us/electronic-export-information/ftr-chart.html
UPS International Basics: http://global.ups.com/how-to-ship-internationally/