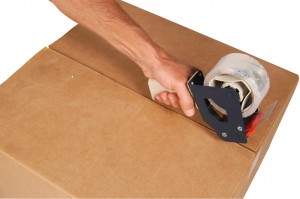 Packing a box properly is crucial when it comes to shipping. If your item is not packed well, it probably won't stand a chance in the carrier's fast-paced hubs full of drops and falls from conveyor belt to conveyor belt. The carriers know this and have come up with several resources to use for all the do-it-yourself packers out there.
We put together a list of eight things to do to ensure proper packing. Follow these guidelines and you'll greatly increase the chance of your item arriving in one piece.
1. PICK THE RIGHT BOX: Box selection is crucial. Everyone likes saving money and some do this by recycling a used box to ship their item. Recycling is great! Just make sure the box doesn't have any water damage, rips, tears, holes, or anything else that weakens the integrity. What most people don't realize is that boxes lose 60% of their strength after the first shipment. Keep that in mind when choosing a box!
Depending on what you're shipping, you may want to use a box that has double walls or more. The "walls" are the part of the box with the flutes between them. If you hold the flap straight up and look down on it, you'll see holes or tubes in between the sheets of cardboard. Those are referred to as flutes. The more rows of flutes you have (i.e. "walls), the thicker and stronger the box. This is important when shipping extremely fragile or heavy objects.
2. REMOVE OLD LABELS AND BARCODES: You want your package to go to the right place, right? Make sure you remove or cover up old shipping labels so the package doesn't get miss-sorted and go to the wrong place. Believe it or not this happens quite a bit. One time we had someone come into our store with a box that had three shipping labels on it; no one knew which one was the correct label (including the customer)!
You'll also want to remove any labels that no longer apply such as the lithium battery or hazardous material labels that are affixed on some boxes. Packages with such stickers are meant to be sorted and handled differently and sometimes require specific paperwork. Obviously a stuffed bear (with nothing but stuffing inside of course) is not considered hazardous material, but if it's shipped in a box with a hazardous sticker it will likely get processed that way. It could be held until proper paperwork is provided or the error is corrected by the shipper.
3. WRAP ITEMS INDIVIDUALLY: When shipping fragile items, it's important to wrap them separately. This can be done with bubble wrap, foam sheets, or newsprint to prevent scratching. Wrapping items individually prevents them from hitting each other with enough force to cause damage. If you put two or more items together and wrap them as one, it may protect them from other items in the package, but it won't protect them from each other.
4. USE PROPER CUSHIONING: You should never pick up a box and hear items shifting around in the box–unless your shipping something like LEGOs. Severe damage can result as nothing protects the item from the edges of the box or outside forces being applied to the package. There should be cushioning in the box to prevent items from freely moving about the package.
Proper cushioning includes peanuts, Styrofoam, or thick kraft paper. They help hold the item in place and protect it from the edges of the box. It also gives padding for when heavier items are placed on top of the box or in the event a heavy box slams into it while sliding down the conveyor belt.
Speaking of heavy objects, exercise caution when selecting your cushioning for those objects. Peanuts won't do much good in a box with a 70-pound dumbbell or weight. The use of multiple-walled boxes or Styrofoam would be a better choice for heavy objects.
5. USE THE RIGHT TAPE: This is not the area to go cheap. Get a good brand of tape made for shipping. Scotch tape, duct tape, masking tape, painters tape, and other craft-type tapes should not be used. They're either not strong enough or interfere with the carriers' scanning equipment and are therefore not acceptable by the carriers.
Good tape to use is heavy duty brown tape that is strong enough to cover seams and hold flaps down. Strapping tape is excellent when banding the same size boxes together. Strapping tape has small twine inside that holds the package together. When using this tape, make sure you go around the entire box and fasten it to itself to make a proper hold. If all you need is a basic closure for the box, then clear tape is the best way to go. You can buy most of these tapes at your local neighborhood pack and ship store.
The carrier recommends using the H-tape method when sealing your box. This is where a strip of tape is placed over the seams on both sides of the box and down the middle. Make sure the flaps meet and no gaps exist between themselves.
6. LEAVE THE PAPER WRAP INSIDE THE BOX!: It used to be very common to take your box–most likely the manufacturers box–wrap it in brown paper, write the address on it, and take it to the closest shipping store. As nostalgic as that is, it's no longer a recommended way to ship since nearly everything is handled by machines.
The issue with using paper wrap is that almost all shipping stores use thermal labels for postage and shipping. If a package where to get caught on the conveyor belt or caught on another box that, say, wasn't packed or closed properly, it can tear off the paper and the label. There is no recourse when this happens; the package essentially becomes abandoned.
7. USE ONE ADDRESS LABEL WITH COMPLETE INFORMATION: If you're processing the shipping label online, make sure all content fields are filled in. This is especially true for phone numbers. The carrier needs to know who to contact if there is an issue with the package. If you do not have a phone number for the receiver, use your number. You should also have the correct destination address including suite or apartment numbers. Make sure your return address is complete and accurate.
Proper address labeling makes the process go faster and assures a more accurate delivery. You're local pack and ship store can help by processing the label on their account if you need assistance.
8. PUT AN EXTRA LABEL IN THE BOX: Place a duplicate copy of the shipping label inside the package. The carrier can use it to complete the delivery if the label on the outside gets ripped or partially torn off.
Following these guidelines will make your shipping experience more enjoyable and better ensure your package gets delivered safely.
If you'd like more information on how to pack specific items, we recommend visiting the carrier websites below:
FedEx: http://www.fedex.com/us/service-guide/prepare-shipment/packing/express-ground/index.html
UPS: http://www.ups.com/content/us/en/resources/ship/packaging/guidelines/how_to.html