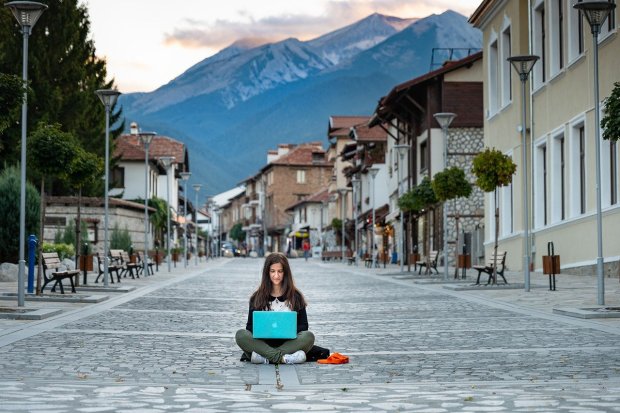 There is a growing community within the workforce that combines fun and adventure with earning a paycheck. "Digital nomads" is what they're being called. They are people who have left behind the typical 9:00-5:00 workday at the office for a more independent schedule allowing them to travel.
No single definition fits digital nomads, whom research says number at about five million independent workers. They are represented by all types of age, gender, and race. Most are young males, but a 2018 study by the State of Independence in America found that 31% are female and 54% are over 38 years old. They're individuals looking for a better balance between work and life. People are placing a higher value on experiences (mainly travel), and being a digital nomad offers the freedom to achieve this balance.
Digital nomads combine working remotely with travel ("workcation" as some describe it). It can last for several weeks or months; there's no standard time frame. In rare cases, some work for many years as a digital nomad while traveling through different countries and earn a living throughout the journey.
So who are digital nomads? Most are freelancers, independent contractors, self-employed, writers, designers, editors, content creators, IT professionals, and more. The common denominator with these professions is all can be done remotely thanks to cloud-based file sharing and other digital tools. They can work anywhere in the world if they have an Internet connection.
It's a growing trend with digital nomads at the forefront as more work shifts to mobile. A Gallup poll recently found that 43% of Americans work remotely at some point. Companies are beginning to recognize the shift to digital and have grown comfortable hiring digital nomads. Digital nomads have grown in popularity to the extent that about 17 million people said in the 2018 SIA survey they plan to leave their traditional job in the next 2 to 3 years to become digital nomads.
How do digital nomads get important information like their mail if they're living remotely? That's where companies like The Mail Box Store come in.
Our locations offer a great digital mail receiving service that enables our customers to travel and keep track of their mail. Once you sign up for a digital mailbox, you can have all your mail sent to our location. You get a real street address, so you don't have to worry about carriers not delivering packages to us. We take a picture of your mail and upload it to your personal digital mailbox platform. This allows you to see what mail you received and gives you control of what happens after that. You can choose to have us open and scan, recycle, shred, or forward the mail to your current location.
Many postal customers have found a benefit with USPS Informed Delivery which tells them when a package or mail piece is expected to arrive and what it looks like. As of 2017, over 15 million users have signed up for Informed Delivery just to see what mail is coming. A digital mailbox does all that and more! The best part is anyone can rent a digital mailbox! You don't have to be living the digital nomad lifestyle, although we find our nomadic friends really get the most value out of a digital mailbox.
Digital mailboxes also offer privacy and security. Our stores are under 24-hour surveillance and all mail is stored in a locked, climate-controlled room. You don't have to worry about mail or packages being left out in the rain or getting snatched off the porch while you're away.
If you would like to learn more about digital mailboxes or to sign up, please visit www.anytimemailbox.com, click the locations tab and select Illinois. Choose either Bethalto, Highland, or O'Fallon and sign up today!