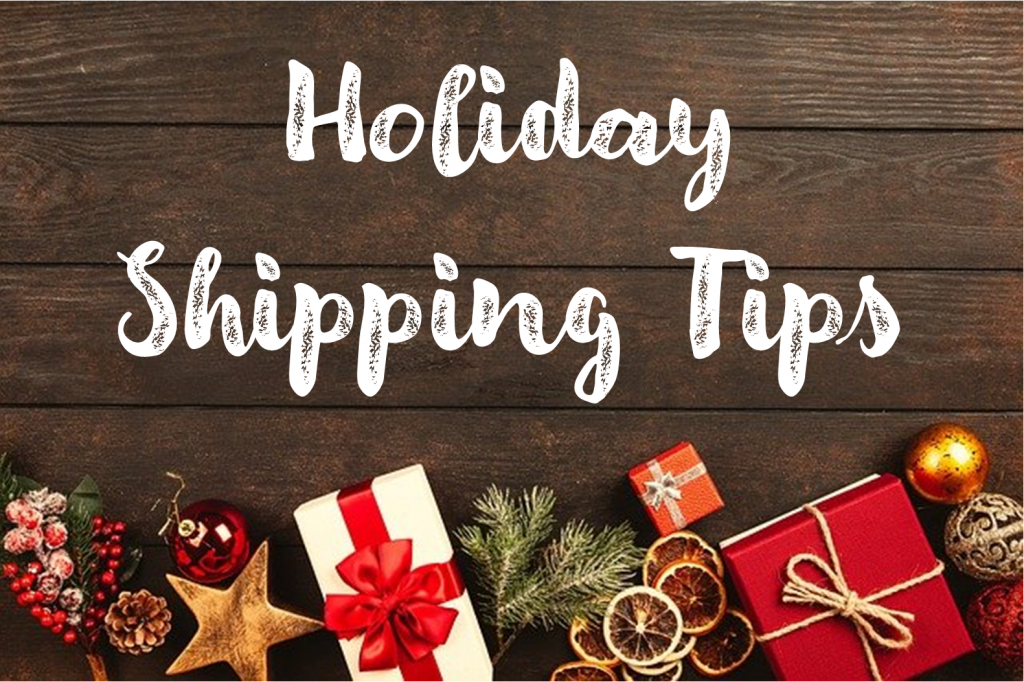 The holidays are here once again! If it seems like Thanksgiving and Christmas have arrived sooner than previous years, it may be due to the urgency to get gift packages shipped out right away. All the major carriers like UPS, FedEx, and the United States Postal Service have urged customers to ship early to avoid delays in December.
We've come up with a shortlist of tips for all the do-it-yourself packers out there. If you plan to pack your own shipments this holiday season, we recommend you follow these guidelines to ensure your gifts arrive in one piece.
Tip #1: Make sure the item(s) can be shipped
This may seem obvious, but you may be surprised by what can and can't be shipped. All the carriers have published lists on their websites of what can and can't be shipped. Some carriers, like USPS, have more restrictions than others. For example, shipping a bottle of wine is permissible with UPS, but not USPS. Other items may be shippable, but must be done in a specific way, such as firearms. If you're not sure if what you're shipping is allowed, visit the carrier links below or contact your local pack and ship store for more information.
USPS: https://pe.usps.com/text/pub52/welcome.htm
UPS: https://www.ups.com/us/en/support/shipping-support/shipping-special-care-regulated-items/prohibited-items.page
FedEx: https://crossborder.fedex.com/us/assets/prohibited-restricted/united-states/index.shtml
Tip #2: Consider your shipping container and packaging
There's always a strong temptation to reuse any old box we have around the house. Recycling is great, but consider this when reusing an old box: Boxes lose 60% of their strength after the first use. This means the likelihood of your items getting damaged during transit is higher in a used box than they are in a new, unused box. If it's not packed properly, those odds are even higher.
Plain, unmarked cardboard boxes are the best to use. If you do elect to reuse a box, make sure all old labels are removed or blacked out. This includes warning labels that do not apply to what you're shipping such as hazardous or perishable. Using containers not encased in cardboard (transit cases, wood crates, plastic totes, etc.) will incur an additional handling fee from the carriers.
Tip #3: Pack the item(s) securely
How you pack the item is just as important as the shipping container you use. If you're shipping anything fragile, the carriers require you have a minimum of two inches of cushioning around all sides of the item. Acceptable cushioning material includes polystyrene sheets, packing peanuts, brown kraft paper, air pillows, bubble packs, or soft foam sheets. The goal is to immobilize the item(s) in the center of the box away from all sidewalls. This helps protect against compression and shock. For extremely valuable or breakable items, you should pack the box into a second box to further protect the contents.
Never overfill a box to the point the flaps don't meet in the middle. If your box is too small, it's best to use a larger box or pack your items into separate boxes. It also helps the package handlers and drivers maneuver your box better when there's less weight. For UPS and FedEx shipping in the United States, packages must weigh less than 150 pounds and must not be larger than 165 inches in length plus girth (the measurement around the thickest part of the box). USPS boxes must weigh less than 70 pounds and must not be larger than 130 inches in length plus girth.
It's better to use more cushioning material than not enough. Not sure if you used enough? One trick is to hold the box and gently turn it end-over-end. You shouldn't hear anything moving around inside (unless you're sending LEGOs or a puzzle, of course). Another question to ask yourself regarding your packing job is, "If this box fell off my kitchen counter, will the contents survive the fall?" If you hear the items sliding around or answer "No" to the kitchen counter-question, add more cushioning.
No one wants to process a claim in December. Make sure you follow sound packing techniques so the gifts arrive in one piece.
Tip #4: Confirm the receiver's address and contact information
If you're shipping to a relative or loved one you haven't shipped to in a while (or ever), make sure you have the correct address for them. Sometimes addresses are updated or changed. Perhaps the person you're shipping to have moved since you last visited. Make sure there are no unique features for the address like an apartment number, specific location to deliver the package, or other information critical to the carriers.
Another important thing to have is the receiver's phone number. Your local pack and ship store will ask for this when generating the shipping label. This helps the driver if they're having difficulties delivering the package by giving them the means to contact the receiver.
Your receiver can also recommend a preferred carrier. Some areas are better handled by one carrier over the others. They may also have an agreement with a regular driver to have packages dropped off at their back door for package security reasons. You can also ask your receiver if you need to have a signature required to prevent porch pirates from stealing the package.
Tip #5: Include the destination address inside the box
Accidents happen; even at Christmastime. Shipping labels may sometimes be decimated or torn off during transit. It's a good idea to write the receiver's address on a piece of paper or note card and include it inside the box.
This will help the carrier deliver the box should something unfortunate happen to the shipping label on the inside of the box. It doesn't happen often, but precaution is the best defense against an abandoned shipment.
Tip #6: Ship early to avoid expected delays
Christmas 2021 figures to be as unique as last year. All the carriers saw record volume numbers last holiday season and are expecting the same–if not more–this year. They're encouraging shippers to get their gifts out early to better ensure on-time arrival for Christmas. Unexpected delays are likely this year as supply chains continue to buckle under the global pandemic. The shipping carriers have gone above and beyond during the COVID-19 pandemic, but even they are not immune to having drivers and handlers quarantine.
Inflation is another concern as shipping rates have increased in the last year. USPS raised prices for select services on August 29 while FedEx and UPS issued new rate structures just ahead of this year's holidays. Shoppers began purchasing items as early as October in hopes of beating the traditional holiday rush and avoiding supply chain delays and additional price increases. According to US News, Home Depot reported a 9.8% increase in retail sales while Walmart reported a 4% increase in October. Fuel has increased by 46.8% compared to last year and has been reflected in rising shipping costs.
The chances of a traditional Black Friday where eager consumers camp outside the store is highly unlikely this year. Retailers have spaced out their Black Friday specials with some beginning even before the Halloween candy was put away. More consumers are ordering online and taking advantage of programs like Amazon Hub Counter where their orders get delivered to a local neighborhood business where it's held until the customer can pick it up free of charge.
With higher volume already entering the shipping stream, the carriers are stressing people ship their packages as soon as possible to lighten the burden being placed on their vast infrastructure.
If you need any assistance with packing or purchasing the right materials for a successful shipment, we recommend you visit your local pack and ship store. They can help you pick the materials and give you additional tips based on what you're shipping. Don't have time to get all those gifts packed? They can do that for you, too!
We hope these tips will help you have a safe and successful holiday shipping season!