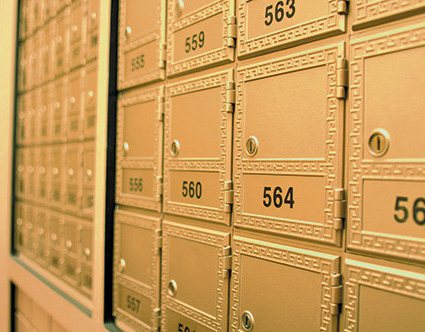 For people looking for an alternative to a Post Office Box (PO Box), you need look no farther than a Private Mail Box (PMB). It has even more features than a PO Box and can be exactly what you need for your business or personal use. In most cases, it's cheaper than renting a PO Box.
Saving money is just one of many advantages to renting a PMB. Here are some others:
Physical Address: That's right, you get assigned a real street address (the address your box is located at).
Private & Secure: Your box is not labeled for passersby to notice. Your information is not given to anyone; even if they come in and inquire if you have a PMB with us. Most stores have 24-hour surveillance placed around their mail boxes to enhance security.
Receive Major Carriers: UPS and FedEx will not deliver to PO Box. They will, however, deliver to a PMB. You can also have other carriers deliver to your PMB. This gives you peace of mind knowing your package won't be left on your porch to fend for itself with possible thieves or bad weather. It will be signed for and stored securely until you pick it up.
One Stop Shopping: You can take care of several things in one place. Check your mail, send a fax, have a document scanned an emailed, buy an envelope or stamp and send out your RSVP to that special wedding you're excited about all in one place!
Accept Large Parcels: Too big to fit in your small PMB? Not a problem! Your packages can still be delivered and placed in the rear of the store until you can come by and pick it up.
Easy & Convenient: Walk in and get your mail. Simple as that. Need some packing supplies while you're stopping by? Get what you need and save a trip! Feel free to use our customer counter to sort your mail or grab and go. It's up to you!
E-Mail or Text Notification: You can receive a text or an email whenever you have mail delivered to your PMB. This prevents playing the guessing game as to whether or not you have mail worthy picking up. The best part? We don't charge extra for this service!
Call-In Mail Check: Wonder if the mail you just got an email notification about is worth coming in to pick up? Give us a call and we'll tell you what you had delivered (after we verify who you are of course; your security is important to us!).
Mail Forwarding Service: We can help you stay on top of your mail if you're planning on taking a long vacation to your winter or summer home. Let us know where you're staying and we'll forward your mail to you.
Friendly Service: We want you to enjoy having a Private Mail Box with us. We strive to do whatever we can to make your rental a positive and beneficial experience.
We're always adding customers to our PMB list. Stop in and see what we have to offer if you're considering having your mail delivered to an alternate site instead of your home. We'd be happy to help you!